Austin Wedding Venues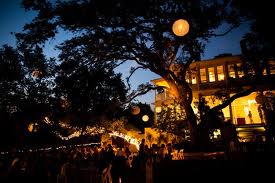 Your wedding venue is where it all happens. Sure, your guests will remember the food, dinner, and dancing, but the venue sets the mood for the entire event. These venues are known for being beautiful spaces that are accommodating to couples that want things just so. If you make just one of your million choices a priority, make it about your venue!
Mercury Hall
If you're dreaming of a Texas Hill Country wedding but you don't want to have to worry about all your guests trekking out there, Mercury Hall is the answer. Located just a few minutes outside of downtown Austin, Mercury Hall has the charm and space of a country estate within close proximity. They have venues for large and small weddings, as well as Sunday brunch weddings.
Barr Mansion
Barr Mansion is one of those fairy tale wedding venues. Exchange vows on the front lawn, dance the night away in the artisian ballroom, and watch your friends waving from the formal front lawn as you drive away. Barr Mansion is an economically conscious facility, too, and is the first USDA Certified Organic venue in the country.
Vintage Villas
Located just half an hour outside Austin, Vintage Villas sits on a bluff overlooking Lake Travis. The spectacular views are yours as you exchange vows on the lawn. The professionals at Vintage Villas are prepared for anything, and they also have an event space for indoor weddings. It's an excellent vacation destination for out-of-town guests who need accommodations. The romance is endless!
Umlauf Sculpture Garden
This stunning garden marries contemporary with classic. The lush garden features sculptures of Charles Umlauf, as well as waterfalls and trees. A covered terrace is the perfect spot for a reception, as it's surrounded by the beautiful plants and flowers but protected from the weather, and can hold up to 200 guests. More intimate affairs may be held in the Roberta Crenshaw Building, which seats 30 for dinner.